Putin slams Ukraine as attack drones hit Moscow high-rises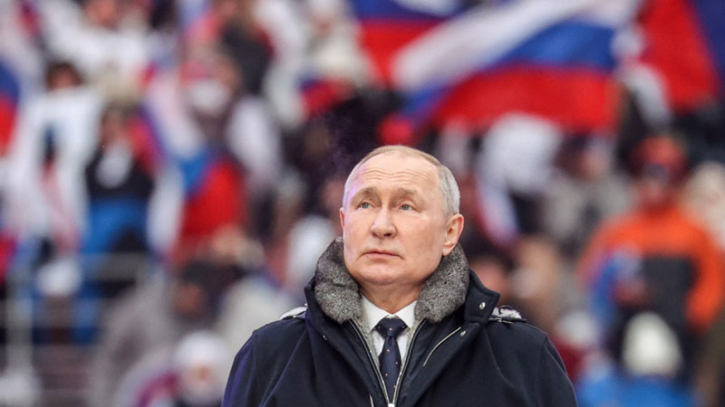 Russian President Vladimir Putin on Tuesday accused Ukraine of seeking to "frighten" Russians after drones hit Moscow high-rises in the first such attack since the beginning of the Ukraine war.
As drones struck in and around Moscow, Russian drones targeted Kyiv for a third straight day while Ukraine gears up for a major offensive against Russian forces.
Russian officials said no one was seriously injured by the drone attack in Moscow and there was only "minor" damage to residential buildings, but some locals said they never thought the Russian capital could be hit in this way.
"I somehow thought that all of this was somewhere far away, that this would not affect us, and suddenly this has become very close," pensioner Tatyana Kalinina told AFP in southwest Moscow near one of the damaged residential buildings.
Putin said that Moscow's air defence had worked, referring to the attacks as Kyiv's "response" to a Russian strike on Ukraine's army intelligence headquarters.
"The Kyiv regime chose a different path to frighten Russians," Putin said.
The Russian defence ministry said that eight drones were used in the attack, adding that five of them were downed and three disabled.
The foreign ministry blamed the West, saying its "support for the Kyiv regime is pushing the Ukrainian leadership towards increasingly reckless acts, including terrorism."
One person was also killed Tuesday in a Ukrainian bombardment on a centre for displaced people in the border region of Belgorod, the regional governor said.
The Belgorod region has in recent weeks been hit by dozens strikes from across the border and seen attempted incursions from armed groups.
Major embarrassment
The United States said it did not support attacks inside Russia.
"We have been focused on providing Ukraine with the equipment and training they need to retake their own sovereign territory," a State Department spokesperson said.
Two drones crashed into high-rise residential buildings in Moscow's affluent southwest, while a third damaged a residential building in a suburb.
The other drones fell outside Moscow. Some of the debris was found around 15 kilometres (nine miles) from Putin's Novo-Ogaryovo residence.
One video shared on social media showed an explosion followed by a column of smoke rising into the sky.
This month two drones were intercepted over the Kremlin, but Tuesday's attacks were the first time that unmanned aerial vehicles hit residential areas of Moscow, hundreds of kilometres from the front lines in Ukraine.
The raids are likely to be seen as a major embarrassment for the Kremlin, which has gone to great lengths to say the protracted conflict in Ukraine does not pose a threat to Russians.
'Not surprised'
Mykhailo Podolyak, an adviser to Ukrainian President Volodymyr Zelensky, said Kyiv had "no direct relation" to the attacks.
Moscow mayor Sergei Sobyanin said two people had sought medical assistance but "no one has suffered serious injuries".
The residents of buildings damaged in the strikes were briefly evacuated.
On Profsoyuznaya Street, a residential building with a blown-out window was cordoned off by police but the atmosphere was calm, with children playing outside and people walking their dogs, an AFP correspondent said.
Some of the residents were moved to a nearby school, where they drank tea and watched a Soviet-era movie.
Muscovites told Russian journalists that a drone had also crashed into an apartment on the 14th floor of a high-rise on Leninsky Prospekt but did not explode.
Ukraine said it had downed 29 out of 31 drones, mainly over Kyiv and the Kyiv region in the latest Russian barrage -- the third on the Ukrainian capital in 24 hours.
On Monday, Russia fired a barrage of missiles at Kyiv, sending panicked residents running for shelter in an unusual daytime attack following overnight strikes.
Predictably, many in Ukraine gloated over the drone attacks in Moscow.
Kyiv Mayor Vitali Klitschko said Muscovites should feel "what it means to live in the conditions that Kyiv has lived in for the past one and a half years."
Nuclear fears
Also on Tuesday, UN nuclear watchdog chief Rafael Grossi urged Ukraine and Russia to adhere to "concrete principles" to prevent catastrophe at Ukraine's Zaporizhzhia nuclear plant.
The safety of Europe's largest nuclear power plant in Ukraine's southeastern region of Zaporizhzhia has been a concern since Russian forces seized it over a year ago.
Ahead of Ukraine's expected counteroffensive, fears have increased that a nuclear disaster could occur amid increased military activity.
Grossi, director general of the International Atomic Energy Agency (IAEA), briefed the UN Security Council in New York on his proposals including that there should no attacks near the plant and no storage of arms.
None of its six Soviet-era reactors now generates electricity, but the facility remains connected to the Ukrainian power grid for its own needs, notably to cool the reactors.—AFP