Russia says Su-27 jet sent to prevent US planes violating border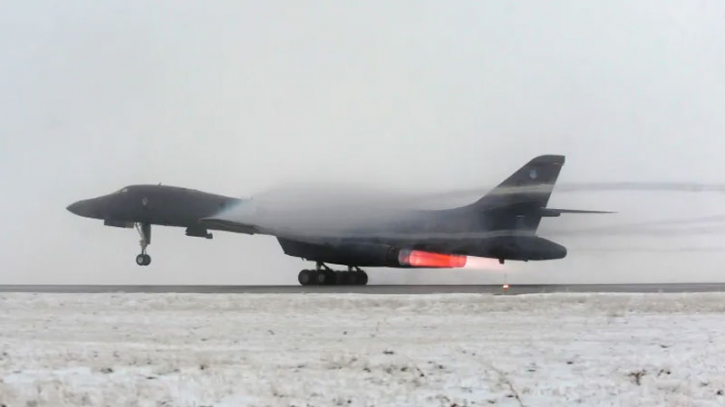 Russia's Defence Ministry said it scrambled an Su-27 fighter jet to "prevent violations of the state border" by two United States Air Force strategic bombers flying over the Baltic Sea.
The Defence Ministry said in a statement on Tuesday that the military had prevented any border violation by the US planes and "the flight of the Russian fighter was carried out in strict accordance with international rules for the use of airspace".
The Russian interception of the US bombers is the latest in a series of aerial interactions involving Russian, US and NATO military aircraft amid tension in relations following Moscow's full-scale invasion of Ukraine last year.
In March, a US surveillance drone crashed into the Black Sea after it was intercepted by Russian jets in international airspace.
The US military said it was forced to ditch the MQ-9 Reaper drone in the sea after one of the Russian jets struck the drone's propeller.
Russia denied that its jets caused any physical harm to the US drone, alleging it crashed while making a sharp manoeuvre.
The US military soon after released a declassified 42-second video clip showing the Russian Su-27 fighter jets making close passes while dumping fuel in an apparent bid to damage the drone's optical and other hi-tech instruments.
In later April, fighter jets from the United Kingdom were scrambled to intercept a Russian military aircraft operating north of Scotland.
Typhoon fighters intercepted the Russian Tu-142 maritime patrol aircraft as it approached UK airspace from the North Atlantic Ocean after flying in international airspace over the Norwegian Sea. As part of a joint NATO response, Norway had earlier scrambled its air force's F-35A fighter planes to intercept the Russian aircraft.
A week earlier, German and UK fighter planes, operating as part of NATO's air defence in northeastern Europe, intercepted three Russian reconnaissance aircraft in international airspace over the Baltic Sea.
The two Russian Su-27 fighter planes and an Ilyushin IL-20 aircraft were flying without transmitting transponder signals in international airspace, the German air force said at the time.
Earlier this month, Russia said that two aircraft, one German and one French, were intercepted attempting to "violate" its airspace and in mid-April, a Russian fighter jet was scrambled to escort a German naval aircraft over the Baltic Sea.