Ukraine grain deal extended by two months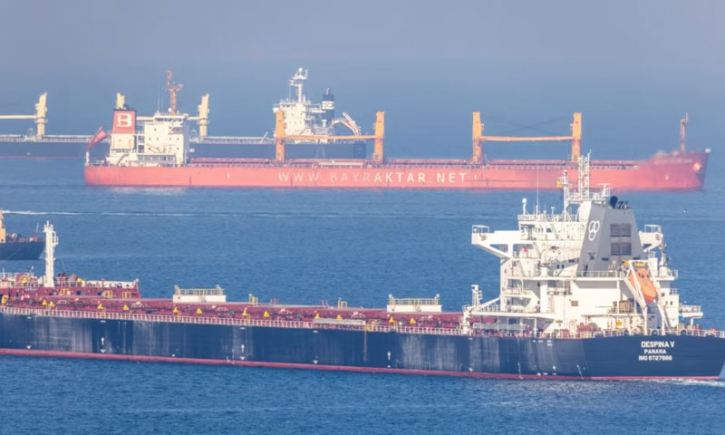 Turkish President Recep Tayyip Erdogan has announced that Russia and Ukraine have agreed two-month extension of the Black Sea Grain Initiative allowing for the export of Ukrainian grain through the Black Sea ports.
"With the efforts of our country, the support of our Russian friends, the contribution of our Ukrainian friends, it was decided to prolong the Black Sea grain deal for two more months," Erdogan announced on May 17, one day before the deal was due to expire.
Russia agreed not to block ships from leaving two Ukrainian harbors, Erdogan said, expressing his hope that the deal would be "beneficial for all the parties."
Erdogan's announcement came amid threats from Russia to quit the pact over obstacles to its grain and fertilizer exports.
The pact, which allows for the safe export via the Black Sea of Ukrainian grain, was brokered by Turkey and the United Nations and has been extended twice. Moscow said in March when the last extension was agreed that it would be only for 60 days, until May 18, unless a list of demands regarding its own agricultural exports was met.
Ukraine welcomed the extension announced on May 17 but said it must work effectively.
"The Black Sea Grain Initiative has been unblocked [and] continues to be valid" until July 18, Ukrainian Infrastructure Minister Oleksandr Kubrakov said on Twitter.
Kyiv is "grateful to our partners" for their efforts in "strengthening food security," Kubrakov said in a separate statement, adding that the main challenge now is to make it work effectively.
"It is necessary to eliminate the problems that Russia has been creating for several months," he said.
U.S. national-security adviser Jake Sullivan echoed that sentiment, saying that the world needs more certainty from Russia about the crucial food supply chain.
"It's a good thing that it has been extended," Sullivan said of the agreement. "Unfortunately, Russia continues even in a moment of extension to rhetorically hold it hostage in various ways, to suggest its days are numbered."
Russia has claimed that obstacles remain to its food exports and repeatedly threatened to withdraw from the agreement, which was originally reached in July to allow Ukrainian grain exports amid fears of a global food crisis when major Ukrainian ports were blocked by Moscow's warships. A parallel memorandum on unhindered Russian food and fertilizer exports was signed at the same time.
The Russian Foreign Ministry confirmed that it agreed to the extension but said "disparities" needed to be fixed in the implementation of the deal.
"Our main assessment of the 2022 Istanbul agreements have not changed. Disparities in their implementation should be corrected as quickly as possible," the Russian Foreign Ministry said.
Russia's ambassador to the UN said Moscow still hopes obstacles to its own grain and fertilizer exports can be overcome.
"We still do not lose hope that the problems that we are raising will be sorted out," Vasily Nebenzia told reporters. "The sooner the better."
UN Secretary-General Antonio Guterres welcomed the agreement on the extension but stressed the need for a more comprehensive, longer-term deal.
"These agreements matter for global food security; Ukrainian and Russian products feed the world," Guterres said. "Looking ahead, we hope that exports of food and fertilizers, including ammonia, from the Russian Federation and Ukraine will be able to reach global supply chains safely and predictably."