Putin threatens to strike new targets over western arms for Ukraine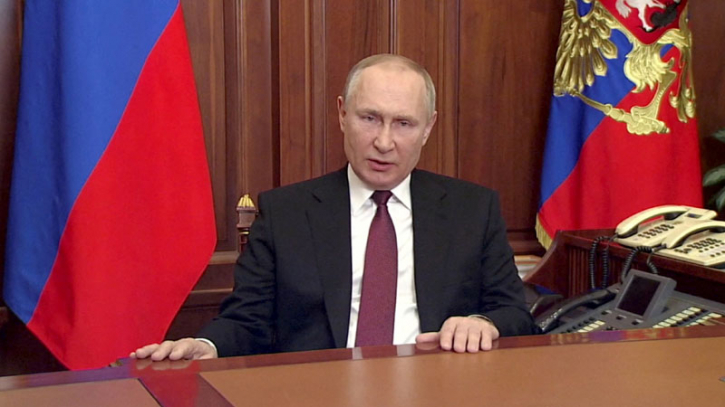 Russian President Vladimir Putin threatens to 'strike at those targets that we have not yet been hitting' in Ukraine if the West provides Kyiv with longer-range weaponry.
In excerpts of an interview for Rossia-1 state television broadcast on June 5, Putin said the "fuss" around providing Western weaponry to Ukraine was a ploy to draw out the conflict.
Putin did not specify what new targets Russia might strike.
Russia launched its unprovoked war on Ukraine on February 24. Tens of thousands of people have been killed and millions displaced in the more than 100 days of fighting since then.
Russia has not released much information about its losses during the conflict, but Western and Ukrainian analysts have said they have been far greater than Moscow originally anticipated.
Ukraine has been seeking advanced multiple-rocket launch systems such as the M270 and the M142 HIMARS in order to be able to strike in the rear of Russian forces.
U.S. President Joe Biden said last week that he would provide the HIMARS system to Ukraine after being assured it would not be used to strike targets inside Russia.
Spain's El Pais newspaper reported on June 5 that Madrid plans to supply anti-aircraft missiles and Leopard battle tanks to Ukraine. Madrid plans to train Ukrainian servicemen in the use of the weapons at a base in Latvia, where Spain has already deployed 500 troops.
Putin said the new weaponry for Ukraine was intended "to make up for the losses" of Ukrainian equipment and would not "change anything in essence."
"This is nothing new," he said.
In an excerpt from the same interview released on June 4, Putin said Russian air-defense systems had been destroying Ukrainian drones and "cracking them like nuts."
In a guest essay in The New York Times on May 31, U.S. President Joe Biden wrote that his administration had agreed to provide Ukrainian forces "with more advanced rocket systems and munitions that will enable them to more precisely strike key targets on the battlefield in Ukraine."
However, he added that the United States was "not encouraging or enabling Ukraine to strike beyond its borders."
The United States has hesitated to turn over such heavy artillery amid concerns it could provoke Russia, analysts said.
Some analysts say the administration's internal debate on weapons supplies has lost precious time for Ukraine. "All of our decisions have been late," Ben Hodges, a former commander of the U.S. Army Europe told.