Wagner boss Prigozhin threatens Bakhmut withdrawal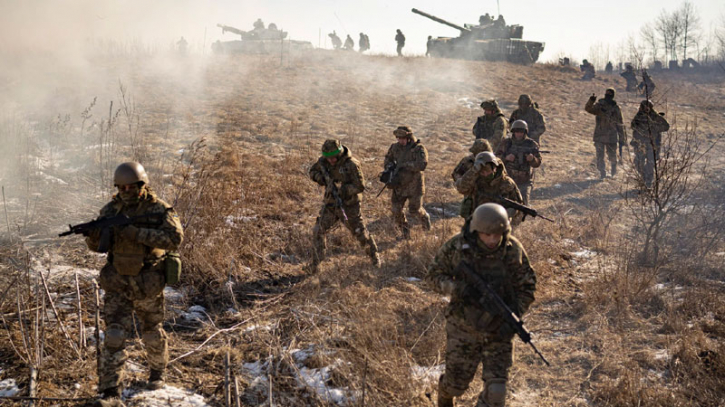 Yevgeny Prigozhin, the head of Russia's Wagner mercenary force has threatened to withdraw his troops from the key battle for Bakhmut in eastern Ukraine as casualty rates mount, while Ukraine military authorities said Russian forces have been unable to cut their supply routes to the front line city.
Losses in Bakhmut could be five times fewer than the actual number if needed artillery ammunition were provided, Yevgeny Prigozhin said in an interview with Russian military blogger Semyon Pegov published on Saturday.
"Every day we have stacks of thousands of bodies that we put in coffins and send home," Prigozhin said.
Prigozhin said he had written to Russian Defence Minister Sergei Shoigu asking for supplies of ammunition as soon as possible.
"If the ammunition deficit is not replenished, we are forced — in order not to run like cowardly rats afterwards — to either withdraw or die," he said.
The withdrawal of some fighters from Bakhmut would be likely, but he warned that this would mean that the Russian front line would collapse elsewhere.
In an audio statement published on the Telegram messaging app of his press service on Saturday evening, the Wagner boss said he lost 94 fighters due to a lack of ammunition supplies.
"It would have had been five times fewer if we had more ammunition," said Prigozhin, who has previously accused Russia's regular armed forces of not giving his men the ammunition they need. He has also accused Russia's top brass of betrayal.
A Ukrainian military spokesperson said on Saturday that Russian forces have been unable to cut off its supply lines to the Ukrainian defenders of Bakhmut.
Russian forces have been trying for 10 months to punch their way into the shattered remains of what was once a city of 70,000, and the battle of attrition for Bakhmut has become known as the "meat grinder" due to the high casualty rates.
"For several weeks, the Russians have been talking about seizing the 'road of life', as well as about constant fire control over it," Serhiy Cherevatyi, a spokesperson for Ukrainian troops in the east, said in an interview with local news website Dzerkalo Tyzhnia.
"Yes, it is really difficult there … [but] the defence forces have not allowed the Russians to 'cut off' our logistics," he said.
The "road of life" is a vital road between the ruined Bakhmut and the nearby town of Chasiv Yar to the west — a distance of just more than 17km (10 miles).
The supply of provisions, weapons and ammunition is secured, Cherevatyi said, and Ukrainian forces were maintaining their positions along the road, and engineers had already laid new roads to Bakhmut.
"All this allows us to continue holding Bakhmut," he said.
If Bakhmut fell, Chasiv Yar would probably be next to come under Russian attack, according to military analysts, though the city is on higher ground and Ukrainian forces are believed to have built defensive fortifications nearby.
Ukraine has pledged to defend Bakhmut, a city Russia sees as a stepping stone to attack other Ukrainian areas.